There is no better feeling than getting a full day's worth of work done in a few hours. Being productive gives us a sense of accomplishment and relief, but it isn't always easy to keep up.
Staying motivated at work can be difficult. Some days it may almost seem impossible, leaving you feeling unproductive and stressed. There's no call for worry, recent studies have shown that it may not all be your fault. A study conducted by the University of Alabama at Birmingham (UAB) School of Optometry found that vision impairments lower work productivity by as much as 20 percent.
Productivity can be affected in two ways in relation to vision impairments. Vision impairments and discomfort can cause a need to not be physically present at work. However, they can also cause people to be mentally absent from work.
Visual Impairments and Unproductivity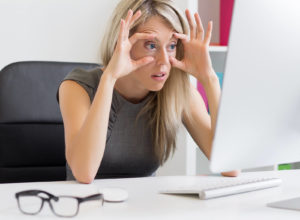 Being mentally absent from work, means to be physically present but not getting any work done. The term to describe this is "presenteeism". Presenteeism is often associated with people afflicted with depression, anxiety, or pain. Now, as visual impairments rise employers are starting to notice a drop in productivity.